I'm about to admit something that I've never admitted before. Well, at least not on this blog and not outside of me talking to myself in the shower. Are you sitting down? I'm serious. This is a big thing for me.
Ok, here goes…
I'm getting old!
Ok, I said it. I got it out there. Now all of you out there stop laughing because I'm only 28 years old. Yes, that is relatively young, but my body is telling me otherwise. Tonight I participated in a summer league ultimate frisbee game. I think that 90% of the people that I'm playing with are younger than me. The other 10% is staying up with me. What happened? I'm just falling apart.
Don't get me wrong. I still work harder than anyone out there. I still look for the layout defense, dive for the hand block and sacrifice my body for the team. However, I use to go out dancing after playing ultimate. Now I come home with all these aches and pains. Yes, I'm hurting.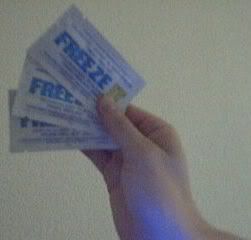 My sister always loved using Ben Gay, but I always thought it smelled like an old lady and I hated applying the gel. Luckily I got some samples of a product called Freeze It in the mail which it said had no lingering odor. I decided to give it a whirl since the aches and pains were just killing me. Despite my wife's laughing I pulled out the Freeze It and applied liberally. It was amazing how quickly this product worked. Bye Bye pain. I sat back and enjoyed a movie with my wife and she didn't push me away telling me that it smelled. About 30 minutes later I decided to get up for some popcorn. As I got up I could still feel that nice icey burning sensation. Yes, I did just say ice and burn in the same sentence. You know what I'm talking about if you've used something like this.
Anyway, a little search online for Freeze It and I found that Freeze It has a roll on version. See picture:


That's what I'm talking about. I'm one of those people that hates applying smelly lotion, sun tan lotion, or anything I have to rub in with my hands. I like hands free application. I've never seen Ben Gay give me that.
Considering I'm playing ultimate frisbee twice a week and basketball once a week to lose some weight. I might want to buy some stock in Freeze It.