Well, the people at PayPerPost have been super busy and so I decided to take up on their great idea to have a featured blogger. I hope PayPerPost gives some love to the featured blogger since they deserve it.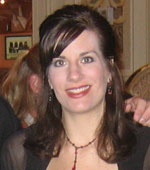 My first featured blogger is Amy. She has two blogs that we know about: Whatever I Feel Like and Feel Good! I guess you can tell her mood by which blog gets more posts.
What do you do when you are not doing PayPerPost?
Are you kidding me – when am I not doing PayPerPost? It's taken over my whole life! Wink
What did you want to be when you were growing up?
An actress or a model … that didn't quite work out, obviously.
What are the top 3 songs on your iPod?
I don't have an iPod. Ha! But some of my favorite songs are Gnarls Barkley's "Crazy", Bob Seger's "The Fire Down Below", Evanescence's "Bring Me to Life", U2's "Yahweh", Chicago's "Saturday in the Park"… I like an eclectic mix of stuff.
The best movie ever made was …
Oh geez, the inevitable "best movie" question. I don't know the answer to this one… one of my favorite movies of all time is Forrest Gump, though.
If you could recommend one book, it would be …
Wow, just one? That's hard. On short notice, I will say Donald Miller's "Blue Like Jazz".
What are some of your favorite websites?
www.payperpost.com (duh!)
www.fark.com
www.worldcrossing.com (love me some forums!)
www.stumbleupon.com
Did you ever think you'd make money blogging?
Never in a million years. It still blows my mind that I'm getting paid every day just for writing on my blog!
It's your last meal. What are you eating?
Oh my goodness. You know I'm a food addict, right? Well, I guess I would go with a steak cooked on the grill by my dad, a freshly baked potato with just the right combination of salt, pepper and butter and a fresh garden salad comprised of dark leafy greens, red peppers, cucumbers, cherry tomatoes and carrots.
Favorite toy as a kid?
Something that had to do with Barbie – probably my Barbie makeup head or whatever that montrosity was called. It was basically a life-sized Barbie head that you could use to put makeup on and play with her hair. I spent hours playing with that thing until the day I got the brilliant idea to give her a hair cut. I was so disappointed with the results of that, I had to banish her to the bottom of my toy chest.
Favorite place on the planet?
On a typical day this would be my house. There's no place better than my own home. But I also have a strong affinity for Virginia Beach and South Dakota's Black Hills … hard choices!
Favorite Postie? and why?
Now you know they're *all* my favorite. I couldn't possibly pick one. Wink
One story you don't want to tell us, but you're going to tell us anyway:
Sheesh – I usually save this stuff for my blog. Somehow I end up telling embarrassing stories on there even when I have no intentions of doing so – they just spill right out from my fingertips!
Anyway, a story I don't want to tell you would be about how mean I was as a teenager. I swear I'm nicer now. A bunch of us were hanging out in my boyfriend's room, partying, having a good time, etc. when my best friend left the room to go to the bathroom. I knew my boyfriend had picked up some cigarette "loads" as pranks to play on his friends in the Navy and I was anxious to see how they worked… so I asked him for one to put into one of her cigarettes.
As luck would have it, when she got back to the room, she took a cigarette from her pack, placed it in her mouth and before lighting it said, "Remind me to quit smoking." Five seconds later, the whole thing had mini-exploded in her mouth. We laughed and laughed and laughed. My friend didn't think it was *quite* as funny as we did. I know it's mean, but that story still makes me chuckle when I think of it. Ahh… to be a teenager again.